Welcome to the online store
FREE SHIPPING to the USA ON ALL ORDERS $200. and over
Scroll Down to see Products for Sale
Introduction
Ndalama African Desert Crafts website originates from Ndalama Creations, an African Arts and Crafts shop located at Nxamaseri Island Lodge on the Nxamasere Channel of the Okavango River in the country of Botswana in Southern Africa. Ndalama is a word in the local Kalanga language that translates to "something you keep close to you" as in an ornament, talisman or piece of jewelry that you wear close to your body. Our shop features handcrafted items made in Botswana, including the lovely baskets made by the Bayei and Hambukushu ladies of the Ngamiland region and the handicrafts of the San Bushmen, locally known as the Basarwa, who live nearby at Tsodilo Hills.In obtaining our goods in Botswana, we primarily deal directly with local community artisans, assuring that they receive fair prices for their work. In many cases we supply the artisans with hard to get materials needed to create their pieces. With the Tsodilo Hills San Bushmen for example, we trade farm raised ostrich eggshells, glass beads, copper wire and an appropriate amount of cash for finished jewelry and other handicrafts. We do our best to sell the resulting products for affordable, realistic prices that satisfy the buyer, hoping to generate a greater world market for Botswana crafts. The cash flow created by Ndalama helps to support Botswana's remote artisans and supply them with a reliable income. The income from Botswana basket sales promotes the independence of the Bayei and Hambukushu women of the region.
Shop by Product Type
We also offer a multitude of small treasures from throughout Africa. From Mali we bring you jewelry collected in the fabled city of Tombouctou made by the nomadic Tuareg people of the Sahara Desert and delightful pieces acquired from the fabled Dogon people who live on the Bandiagara Escarpment on the fringes of the Sahel.
Shop by Region
Although I am a resident of Botswana, I hold an American passport and am fortunate in being able to travel extensively throughout Africa. My partnerships and close personal friendships with my Motswana (people of Botswana) neighbors and people of the Fulani and Tuareg tribes in Mali bring me close to the heart of the Kalahari and Sahara Deserts. My life in Botswana and travels throughout Africa has lead to the creation of this website.
The focus of Ndalama is to provide an outlet for local artisans to sell their creations. The ladies from the nearby villages of Nxamsere and Kajaja I and II bring their baskets to Ndalama to sell, as do local carvers, painters and other various artisans. My personal friends and professional associates Nkgomotsang Mothanka, Senabe Lehatshe and I, make frequent trips to the nearby Tsodilo Hills to trade with the family of San Bushman artisans living at the foot of the hills, collecting their jewelry and crafts. One these trips, more often then not, we also help out by hauling their jerry cans to the nearest water source to fill them or by bringing them medicines and food supplies from town.
We invite you to explore our online store and thank you for your support and interest.
Debbie Logan - Ndalama Creations , Nxamasere, Botswana
Please Note: Unless otherwise indicated, all pieces purchased from the online store will be shipped from within the U.S.
FREE SHIPPING to the USA ON ALL ORDERS $200 and over
Featured Product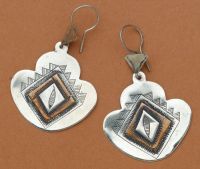 $20.00
Top